Thomas Jefferson (1743–1826)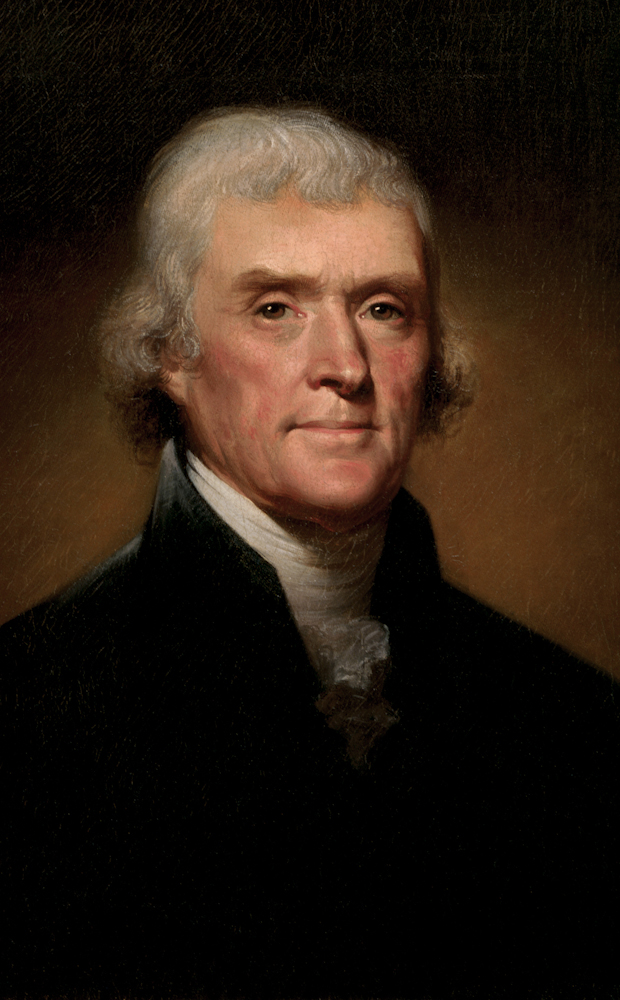 Facts at a Glance
Term

3rd President of the United States (1801–1809)
Born

April 13, 1743, Shadwell plantation, Goochland County, Virginia
Nickname

"Man of the People," "Sage of Monticello"
Education

College of William and Mary (graduated 1762)
Religion

No formal affiliation
Marriage

January 1, 1772, to Martha Wayles Skelton (1748–1782)
Children

Martha (1772–1836), Jane Randolph (1774–1775), infant son (1777), Mary (1778–1804), Lucy Elizabeth (1780–1781), Lucy Elizabeth (1782–1785)
Career

Lawyer, Planter
Political Party

Democratic-Republican
Writings

Writings (10 vols., 1892–99), ed. by Paul L. Ford; The Papers of Thomas Jefferson (1950– ), ed. by Julian P. Boyd; Notes on the State of Virginia 1781 (1955), ed. by William Peden; Autobiography (1959), ed. by Dumas Malone
Died

July 4, 1826, Monticello, near Charlottesville, Virginia
Buried

Monticello, near Charlottesville, Virginia
A Life in Brief

Thomas Jefferson, the author of the Declaration of Independence, spent his childhood roaming the woods and studying his books on a remote plantation in the Virginia Piedmont. Thanks to the prosperity of his father, Jefferson had an excellent education. After years in boarding school, where he excelled in classical languages, Jefferson enrolled in William and Mary College in his home state of Virginia, taking classes in science, mathematics, rhetoric, philosophy, and literature. More »
Essays on Thomas Jefferson and His Administration
Thomas Jefferson

First Lady

Vice President

Secretary of State

Secretary of War

Postmaster General

Secretary of the Treasury

Attorney General

Secretary of the Navy
Consulting Editor: Peter Onuf
Professor Onuf is the Thomas Jefferson Memorial Foundation Professor of History at the University of Virginia. His writings include:
Jefferson's Empire: The Language of American Nationhood (University Press of Virginia, 2001)
Statehood and Union: A History of the Northwest Ordinance (Indiana University Press, 1987)
Origins of the Federal Republic: Jurisdictional Controversies in the United States, 1775–1787 (University of Pennsylvania Press, 1983)
Scholarship and Speakers
The Miller Center is a national nonpartisan center to research, reflect, and report on American government, with special attention to the central role and history of the presidency. Below is a selection of Miller Center resources on Thomas Jefferson.
Listen to Historian Stephen Ambrose's 1996 presentation at the Miller Center on Meriwether Lewis, Thomas Jefferson, and the West.
Learn more about the Center's National Commission on the Presidency and Science Advising and its relationship to Jefferson.
Scripps Library Reference Resources
Below are links to reference resources prepared by the Miller Center's Scripps Library, designed to help students and scholars conduct their research quickly.
Information on Thomas Jefferson's Private and Public Papers
The Miller Center is committed to presenting the most accurate information on our American Presidents. Please make a gift to the Miller Center Foundation today. Your gift will ensure free access to American President for thousands of students, teachers and individuals who wish to learn more about the leaders whose contributions shaped our great country.